LED solar peony peony lights outdoor
Details
Color: peony - light yellow, peony - jade white, peony - pink
Continuous lighting time: 12 hours (included)-16 hours (not included)
Light source type: LED
Rated power:5(W)
Voltage:1.2(V)
Dimension:730 (mm)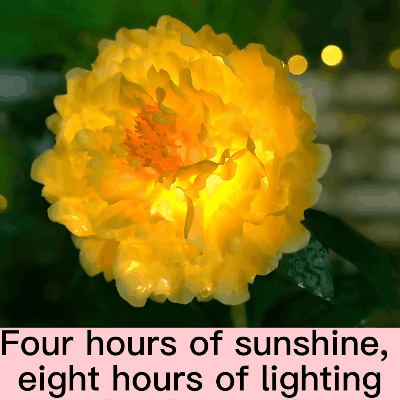 Features
High capacity battery
Compact size
Solar charging, no manual switch, automatically turn on in the dark, intelligent charging, turn off during the day, automatic charging. Soft and high brightness
Safety and waterproof: IP44 display dustproof and waterproof, IP44 dustproof, splash-proof and waterproof, durable. Excellent waterproof, can be used in typhoons, snow and other bad weather

Simulated peony flowers with realistic colors can make your yard feel like summer all year round, for people to enjoy during the day and add a touch of spirit to your garden at night.
The simulated peony flower lights can decorate your garden, patio, deck, outdoor table top, swimming pool, flower bed, lawn, fence, deck, sidewalk, walkway, restaurant garden, hotel, commercial building, garden decoration, etc. Outdoor solar earth lights can also be used as holiday atmosphere lighting, such as parties, banquets, anniversaries, dates, festivals, weddings, Valentine's Day, Christmas, etc!