🚚 Enjoy FREE & FAST shipping today only, delivered right to your doorstep.
🎁 Limited Time Offer: Order Now and get a MASSIVE 50% off your purchase!
👉 Click 'Buy Now' and upgrade your DIY projects and enjoy the satisfaction of professional-grade finishes!
Revamp Your Home and Complete Your Side Project!
🖌️
Don't delay finishing your side project any longer! Embrace the ease and efficiency of our NEW LED Cordless Paint Gun Sprayer.
Our paint sprayer has been specifically designed to enable users of all skill levels to achieve professional-grade results with minimal time and effort. This cutting-edge device will not only save you thousands, but it will also empower you to transform your house and finally complete that long-awaited side project with ease.
Professional-Quality Finishes 💫
Join the thousands of DIY enthusiasts, home owners, and handymen who have taken back control of their life, completed their weekend projects and added value to their homes thanks to our LED Cordless Paint Gun Sprayer. From walls and ceilings to furniture and fences, our sprayer delivers flawless, professional-grade results with ease. Unlock your painting potential and enjoy the satisfaction of professional finishes.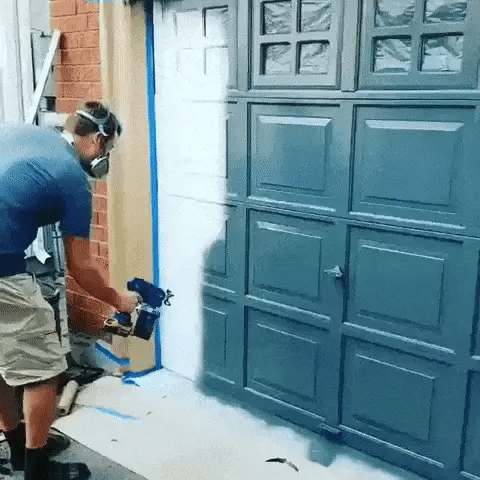 No More Time Consuming Paint Jobs! 🖼
Our LED Cordless Paint Gun Sprayer is designed for ease and simplicity, making it accessible to everyone, regardless of their experience. Its user-friendly operation ensures a straightforward painting process, reducing complexity and making it a breeze even for beginners. Whether you're a seasoned DIYer or you're embarking on your first side project, our cordless paint gun sprayer is your reliable companion, transforming the way you paint and making it easier than ever.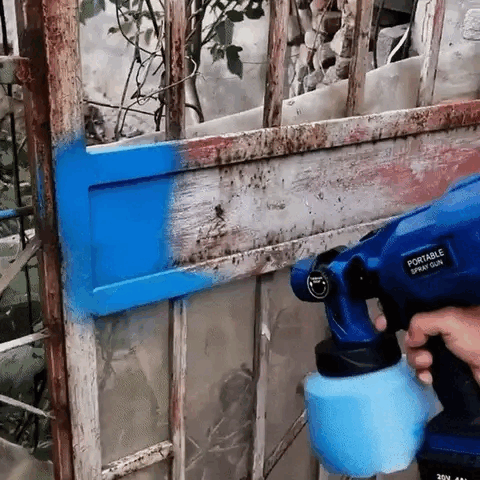 Versatility ♠️♦️♣️♥️
Palmers™ Portable Paint Gun is compatible with various coatings, including latex paint, lacquers, enamels, stains, varnishes, and more. This versatility enables you to tackle different projects and work with different materials.

Portability & Maneuverability 🤸‍♂️
Designed to be lightweight and portable, the Palmers™ Portable Paint Gun offers excellent maneuverability, allowing you to reach tight or hard-to-access areas with ease.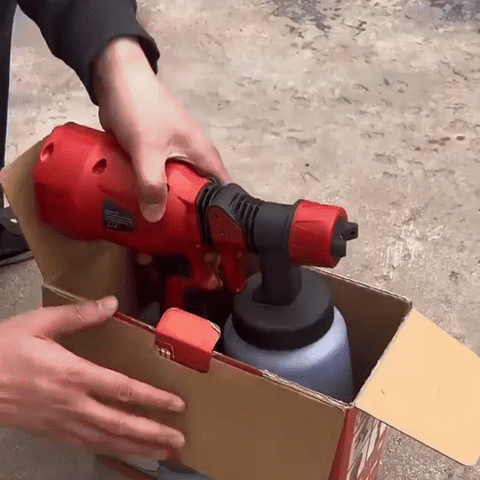 Customization & Control ✍️
Adjustable controls on the spray gun give you the flexibility to customize the spray volume, pattern, and pressure according to your project requirements and personal preferences.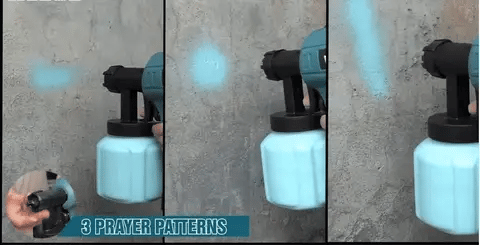 Experience Hassle-Free Painting Satisfaction 😌
The spray gun features an ergonomic handle and user-friendly design, ensuring comfortable operation and reducing user fatigue, even during extended painting sessions.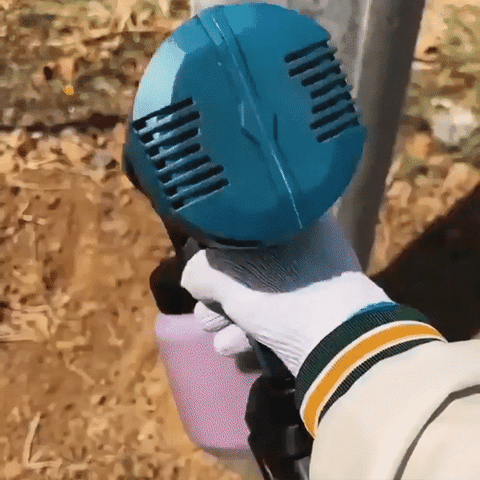 Easy Setup & Cleaning ✨
Palmers™ Portable Paint Gun is designed for hassle-free setup and cleaning. It can be easily assembled, disassembled, and cleaned, making color changes and maintenance a breeze.
Reduced Overspray 🎯
The innovative design of the spray gun is equipped with a high-resolution LED display, you can effortlessly customize the paint flow and spray intensity, ensuring consistent coverage while avoiding any unwanted overspray, resulting in a cleaner and more efficient painting experience while helping to reduce material waste and mess.
Safety & Durability 🦾
Palmers™ Portable Paint Gun is built with efficiency, safety, and durability in mind, meeting rigorous safety standards. Constructed with a cooper motor with a fast cooling air inlet to ensure long-lasting performance, making it a reliable tool for your painting projects.
Experience the joy of having full control over your painting technique, as our paint gun empowers you to achieve remarkable results with ease and confidence. No more guesswork or frustration - just effortless painting and consistently stunning outcomes.
Achieve Professional Results at a Fraction of the Cost! 💰
With our LED Cordless Paint Gun Sprayer, you can skip the expense of costly professional painters and achieve high-quality results yourself, saving you a thousands in labor fees. With the savings, you can allocate more of your budget to other aspects of your projects or even plan new ones. Beyond just financial savings, the sense of accomplishment and creative satisfaction you'll gain from using our LED Cordless Paint Gun Sprayer is priceless, making every project an enjoyable and rewarding experience.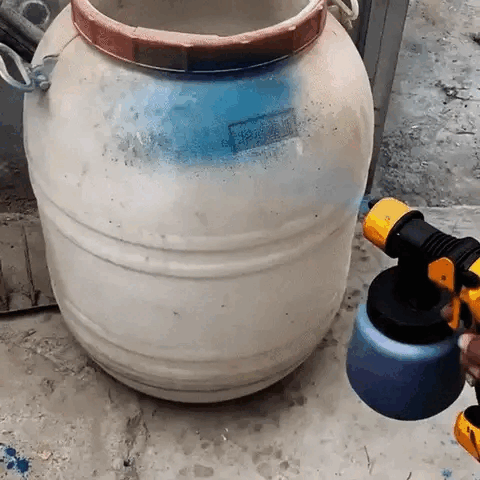 Features/Specs:
🔌 Wireless Freedom - Rechargeable battery, hours of uninterrupted painting power
⏰ Durability and Longevity - Crafted with high-quality materials & built to withstand frequent use
⚙️ Adjustable Nozzle - Multiple spray patterns for versatile painting options
🔋Rechargeable Battery - Convenient and uninterrupted painting
Our 30-Day Money-Back Guarantee:

Hassle Free Confidence 🛡️💰
We stand behind the quality of our Portable Paint Spray, so we're offering a 30-Day Money-Back Guarantee:
✅ Risk-Free Purchase: If you're not satisfied within the first 30 days, return it for a full refund – no questions asked!
✅ Easy Returns: Contact our customer support team, and they'll guide you through the return process.
✅ Quality Assurance: Our guarantee reflects our confidence in the product's quality and performance.
Invest in a LED Cordless Paint Gun Sprayer today and unleash your painting potential! Transform any space with ease, precision, and creativity.
If you're not 100% satisfied with the items you received,please Contact Us within 7 days upon receiving them to initiate the return process.
Purchased but not shipped (Cancelation):
Your order will be issued as soon as possible after your purchase, so you will be charged a 5% processing fee.
Shipped and returned:
For loss and return due to other reasons such as security check, lost transportation, sending to the wrong address, etc., we provide a full refund unconditionally.
For products returned by customers due to insufficient address, incorrect address, undeliverable address, unable to contact the customer, etc., the product is returned. If the customer needs a refund, will be charged a 5% process fee and shipping costs.
has been delivered (Unused):
Within 30 days of receipt of your order, you may return the unused product(s).
To be eligible for a return, the product must be unused, free from dirt, dust, or any fragrances, and in the same packaging and condition that you received it
Customers are responsible for return shipping costs.
And you may will be charged up to 20% restocking fee. (this is withheld from refund)
Return Process
Please Contact Us on our site, indicating the item(s) you would like to return and the reason, attach photo(s) for quality problems.
After receiving return address and instructions from us, please package up the item(s) to be returned with the original packing.
Drop off your package at the local post office.
After returning, provide the return receipt from the shipping company indicating the weight and the tracking number of your returns, we could expedite your refund/exchange. Once your refund has been issued, you will receive a confirmation email.